Nuke Performance FPR100x Fuel Pressure Regulator: Redefining power of motorsports fuel management.
A real beast in a lightweight design. This is an ethanol-proof fuel pressure regulator with a slim design and easy-to-mount stainless steel brackets. Every unit is thoroughly tested before delivery, unmatched functionality, and the same high quality as all Nuke Performance motorsports products.
Extreme motorsports regulator
Approved for 2000hp+
Safe for petrol, methanol and ethanol
Every unit performance tested
Adjustable up to 100 PSI (7 bar)
1:1 boost reference
Stainless steel mounting bracket
AN-10 ORB inlets/outlet
The most reliable and highest performing 1:1 boost reference solution to bring together simple or complex fuel systems for all types of tuning or motorsports engine setup. Redesigned with precision functionality in focus. Lightweight design with the same hallmark as the entire Nuke Performance range of motorsports parts, with an integrated stainless steel bracket for safe and easy mounting for all applications and installations.
Developed from the extreme demands from motorsport
The FPR100x fuel pressure regulator is co-developed with worldwide motorsports teams and fuel pump manufacturers. This fuel pressure regulator is set to perform under extreme conditions, with high horsepower requirement. This regulator is a real beast, the big brother to its little brother FPR100s, and is designed and tested for usage with well over 2000hp and is fully adjustable between 30 PSI and 100 PSI (2-7 bar). This is the optimal AN10 fuel pressure regulator with the highest flow capacity for setups between 400-2400hp. Ready for AN-10 ORB fittings, delivered with an AN-10 ORB plug for a single inlet setup. The FPR100x is a product evolved out of our life at the race track.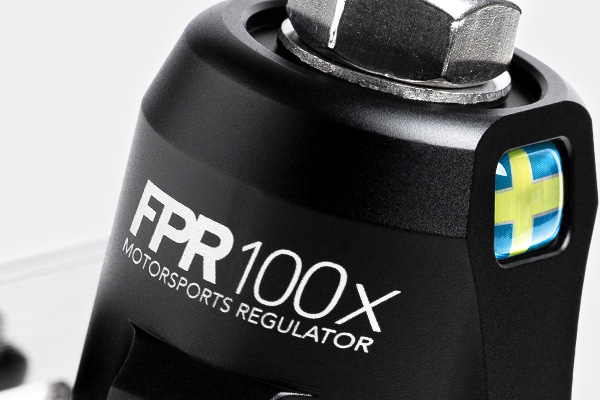 Each regulator is rigorously tested before delivery
To maximize the quality and functionality of the FPR100x, each individual fuel pressure regulator is tested before delivery. Our test facility features world-leading test equipment that can detect even the smallest possible properties that may negatively affect function. There is no shortcut to excellent performance and functionality of the Nuke Performance FPR100x.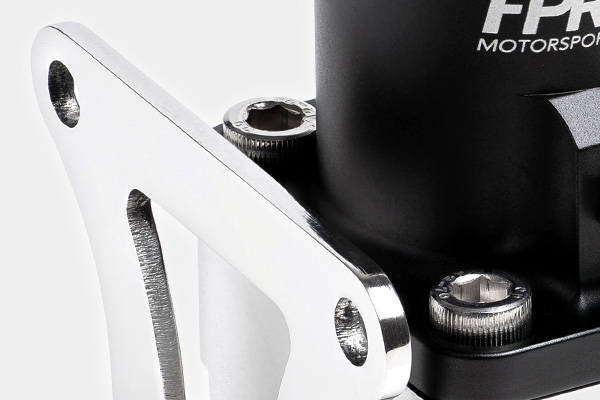 100% ethanol-proof membrane and functionality
Like all Nuke Performance motorsports products, the FPR100x fuel pressure regulator is developed, designed, and manufactured with its stainless steel hardware and anodized internals to handle all fuels, including petrol, ethanol, and methanol. The fibre-reinforced membrane of the FPR100x is of the highest possible quality and comes with our 100% E85-proof approval.
1:1 boost reference and high flow design with minimum flow loss
Fuel pressure rises on a 1:1 ratio when referencing boost with precision pressure adjustment. The fuel pressure is dialled in using the set screw on top with its hardened steel ball that enables exact and well-tuned fuel pressure setup. With a dual inlet design, you choose between a left or right inlet or dual inlet for V-engine setup. 1/8" NPT thread faced forward for easy to read fuel pressure gauge/fuel pressure sensor installation.
5mm vacuum barb fitting is included. The FPR100x uses AN-10 ORB threads to fit the most common fittings of choice. It comes with 1x AN-10 ORB plug that can easily be removed for dual inlet applications. Fits most common AN-10 fittings, the fittings are sold separately.
AN10 ORB - AN6 Male Part #: 700-04-108
AN10 ORB - AN8 Male Part #: 700-04-109
AN10 ORB - AN10 Male Part #: 700-04-110
AN10 ORB - AN12 Male Part #: 700-04-111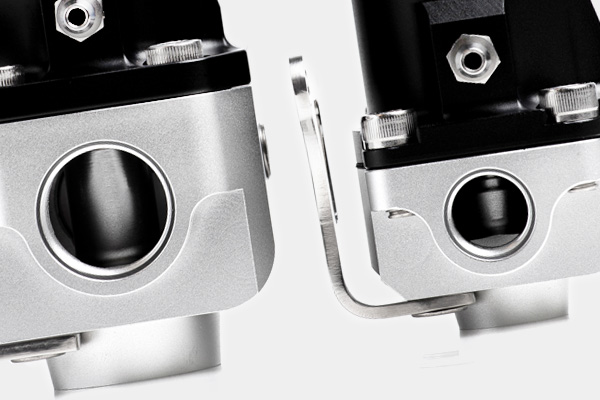 AN-6 vs AN-10. Fuel Pressure Regulators that exceeds your needs
The new FPR100-series fuel pressure regulators are available in AN-6 and AN-10, fully adapted to your motorsports needs. Both in an extremely slim and lightweight design with the latest technology and functionality. With the FPR100-series we provide a unique solution for needs between 200-2400hp.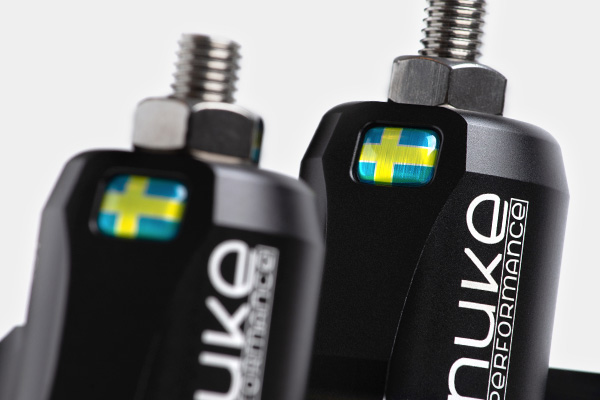 Developed in Sweden, guaranteeing the highest possible quality
The FPR100x Fuel Pressure Regulator is developed and designed in Sweden by Nuke Performance for the highest possible quality and with the same hallmark as all the other parts in the lightweight motorsports range. There is no substitute for the quality of Nuke Performance!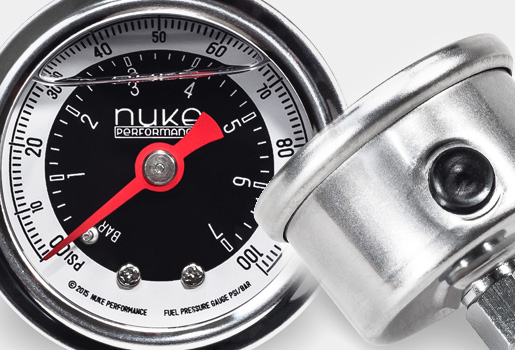 Optional Nuke Performance fuel pressure gauge, 0-100 PSI (7 bar)
To get the ultimate and full experience of your brand new Nuke Performance FPR100x fuel pressure regulator, you should supplement it with our precise and stylish fuel pressure gauge that fits straight into the 1/8" NPT threaded outlet on the front of our regulator.
Part #: 310-01-101

FPR100x kit includes:
1 x 10AN ORB plug for the additional inlet
1 x 1/8 NPT plug for gauge/sensor outlet
1 x 1/16 NPT Barb fitting for 5mm vacuum hose
1 x Stainless steel mounting bracket
2 x Stainless steel bolts for the mounting bracket
Technical information :
• CNC manufactured from aluminum alloy 6082.
• Delivered with 1 x AN-10 ORB plug and 1 x 1/16 NPT barb for 5mm vacuum hose.
• 100% safe for all fuels including petrol, E85 and methanol.
• Extremely lightweight design for motorsports use.
• Stainless steel bracket for safe mounting.
• Anodized finish for long lasting function and corrosion free appearance.
• Fibre enhanced nitrile membrane.
• Fully adjustable from 30 to 100 PSI.
• High carbon steel tension spring.
• Laser engraved and proudly branded with the Swedish flag.

Measurements :
Height : 98 mm
Width : 57 mm
Depth : 49 mm
Bracket CC : 58 mm
Weight : 438 g

Included in package :
1 x Regulator body
1 x Stainless steel bracket
1 x AN-10 ORB Plug
1 x 1/16 Barb 5 mm
1 x 1/8 NPT Plug