The 2nd generation Fuel Surge Tank from Nuke Performance, with everything you need to mount your fuel high-pressure fuel pumps.
This new updated version is the first of its kind specially developed and designed to mount a single or dual setup of most common fuel pumps from AEM, Deatschwerks, Bosch, Aeromotive, Walbro and more.
Lightweight motorsports surge tank
Fits a single or dual high-pressure fuel pump
10-micron stainless steel fuel filter
3.0 liter surge tank capacity
Kit with surge tank and fuel filter
100% Safe for all type of fuels
Delivered with AN-10 and AN-8 fittings
This kit lets you combine two internal fuel pumps into one filtered AN-10 (7/8 UNF) outlet. This Fuel Surge Tank is able to deliver steady fuel flow even over 2000hp. This setup is everything you need to be combined into a space-efficient and power-efficient solution and design.
Choose between single or dual internal fuel pump setup
Run one or two fuel pumps individual with multi electrical connectors on the top lid. Designed and manufactured to handle extreme amounts of power with the same hallmark as all of Nuke Performance products.

Everything you need to mount a single or dual internal fuel pump is included with the Nuke Performance 2nd generation fuel surge tank kit and fits a wide selection of fuel pumps to meet your every possible need and fuel demands:
1-2 x Deatschwerks DW200 / DW300 / DW400
1-2 x AEM 320L
1-2 x Aeromotive Stealth 325 / 340 / 450
1-2 x Bosch BR540
1-2 x Ti Automotive Walbro GSS341/342 GST400/450/520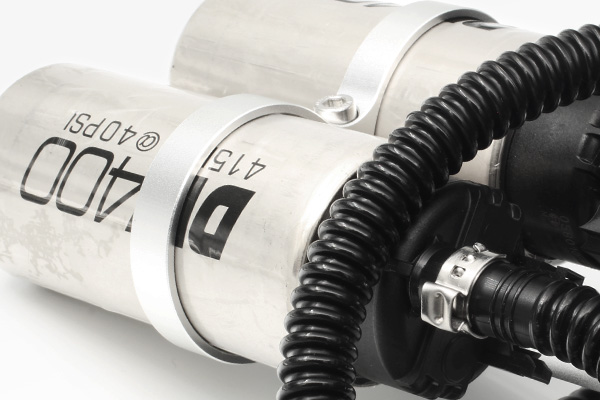 Fuel pumps are mounted with the billet internal mounting bracket
This Fuel Surge Tank comes with an internal bracket for all common 39mm fuel pumps mount with a perfect fit, it also fits the larger diameter fuel pumps such as Bosch BR540 and Deatschwerks DW400 which makes this kit suitable for all possible needs between 200 up to 2500 horsepower.
High flow fuel pumps without heavy customization of the fuel tank
With our Fuel Surge Tank, you minimize the risk when running at a low fuel level, that the system does not cope with the extremely hard driving such as drifting, drag racing, and track days where you can exceed 2g, which could result in fuel loss. With this setup, you can rely on maximum fuel delivery, a safe solution for your engine and setup even when the conditions are as demanding as they get. That you are able to mount high flow in-tank fuel pumps without larger customization of your stock fuel tank is almost as important, this is really the only setup you need.
The Fuel Surge Tank works as a buffer so the fuel pumps are always supplied with fuel for high outputs as the return line from your engine routs straight back into the FST, it stays full at all times.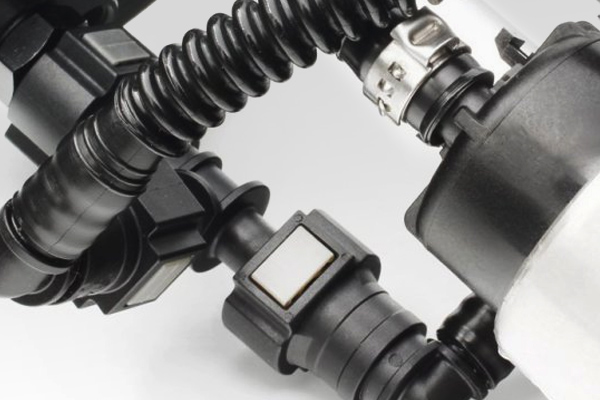 How to mount fuel pumps within the Nuke Fuel Surge Tank?
Your stock fuel pump or your lift fuel pump within your stock fuel tank or your aftermarket fuel cell functions as a pickup fuel pump that ensures that the high-pressure fuel pumps within the oversized 3 liter surge tank always have enough fuel to maximize fuel flow and minimize the risk of starvation that can seriously harm your engine. The Fuel Surge Tank Kit is delivered with everything you need to install the fuel pumps of your selection, but we recommend adding one of our fuel pump mounting kits for optimal functionality. All fuel pumps are securely mounted in all conditions thanks to the billet fuel pump brackets.
Fuel Pump Mounting Kits : Learn more about our SAE mounting kits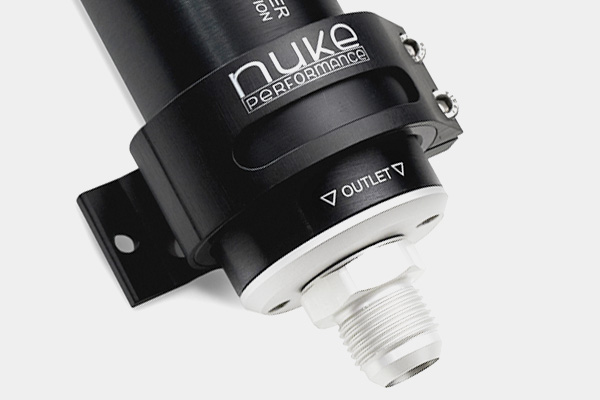 10-micron Stainless Steel Fuel Filter with welded end-caps
The included high-flow Nuke Performance performance fuel filter utilizes a unique 200mm 10-micron stainless steel filter element that is made out of 100% stainless steel with unique welded end caps that excludes the common glue that can dissolve when changing from petrol to ethanol or when running aggressive fuels such as race fuel. When running the over-dimensioned fuel filter from Nuke Performance, you will never have to worry about failing filter elements ever again. For more information about the 200mm fuel filter, visit the product page.
Performance Fuel Filter Part # : 200-03-201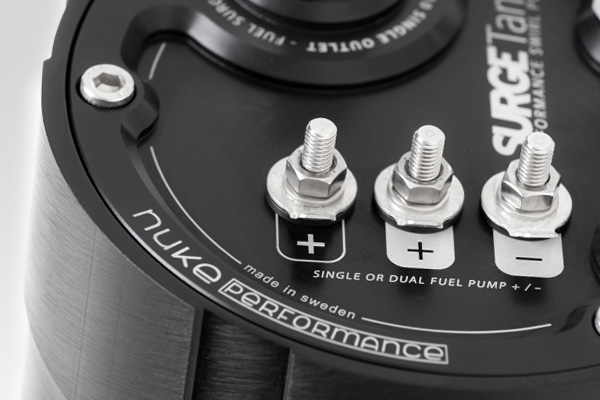 Available in various setups to fill your every possible need
Our Fuel Surge Tank is available in several different setups, each one designed to perform to the maximum. It comes with a billet aluminum mounting bracket with a six-bolt pattern making a secure fitment in any installation. Depending on which setup you choose they come with a various number of electrical connects, but regardless of the model, it is always equipped with our over-dimensioned electrical connectors that can manage x10 the current used. For the Single Outlet version, it is equipped with dual step connectors, letting you choose if you want to run the different fuel pumps on differents steps, fuses or at the same time.
Kit is delivered with AN-10 outlet and AN-8 return Male fittings
Delivered with billet aluminum mounting bracket for effortless mounting and 3 x AN-8 (3/4 UNF) to AN-8 Male fittings and 3 x AN-10 (7/8 UNF) to AN-10 Male fitting for the top cover and fuel filter connections. Other sized AN-6, AN-8, AN-10 and AN-12 fittings are sold separately as accessories.
Fuel Filter Outlet Fittings :
AN-10 (7/8 UNF) to AN-8 Male : 700-01-116
AN-10 (7/8 UNF) to AN-10 Male : 700-01-112
AN-10 (7/8 UNF) to AN-12 Male : 700-01-113
Return, Fill and Overfill Fittings :
AN-8 (3/4 UNF) to AN-6 Male : 700-01-101
AN-8 (3/4 UNF) to AN-8 Male : 700-01-102
AN-8 (3/4 UNF) to AN-10 Male : 700-01-103
Developed with high demands from motorsports
Co-developed with worldwide motorsports teams, this fuel surge tank kit is set to perform under all conditions and for any horsepower requirement. Used in all type of motorsports such as drag racing, drifting, GT racing, time attack and more. The 2nd generation fuel surge tank kit is born out of the high demand of a turn-key solution with the best parts available. Designed to stand up to the destructive properties of alcohol fuels, including methanol and ethanol.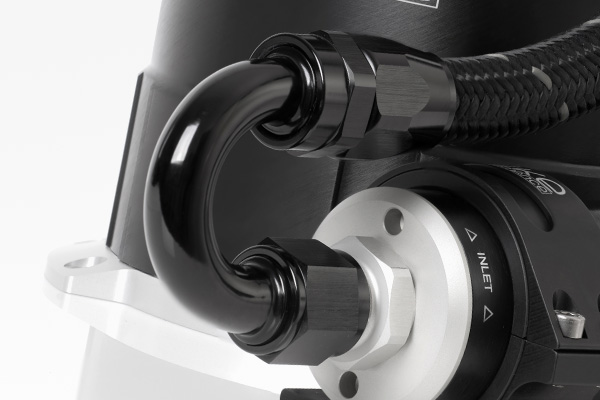 Made in Sweden, guaranteeing the highest possible quality
The second-generation Fuel Surge Tank Kits are developed, designed and manufactured by Nuke Performance for the highest possible quality and with the same hallmark as all the other parts in the lightweight motorsports range. There is no substitute for the quality of Nuke Performance!
Fuel Surge Tank Kit Includes:
1 x 3.0 liter fuel surge tank
1 x 10-micron stainless steel performance fuel filter
2 x Single fuel pump bracket
2 x Bracket inserts for Nuke Performance fuel filters
2 x AN-10 90° hose ends
1 x Braided AN fuel hose
1 x 6 bolt pattern aluminum mounting bracket
3 x AN-10 (7/8 UNF) to AN-10 Male fitting
3 x AN-8 (3/4 UNF) to AN-8 Male fittings
1 x Dual mounting bracket for DW400 fuel pumps
2 x 39mm fuel pump mounting spacers
2 x 1/4 BSPP to 8mm Barb (fuel hose) fitting
1 x 1/4 BSPP Plug (for single fuel pump use)
---
Fuel Surge Tank Kit Specifications
For more information about functionality, view the FAQ guide.
| | |
| --- | --- |
| Part # | 150-01-304 |
| FST height | 265mm (10.43") |
| FST diameter | Ø 148mm (5.82") |
| FST bracket diameter | Ø 178mm (7.00") |
| FST mounting points | 6 x M6 (Ø 6.5 mm / 0.25") |
| Kit weight | 3955g (8.71lb) |
| Fuel filter element | 200mm 10-micron stainless steel |
| Fuel capacity | ≈ 3 liter (0.8 gallons) |
| Outlet thread | AN-10 (7/8 UNF) |
| Inlet thread | AN-8 (3/4 UNF) |
| Return thread | AN-8 (3/4 UNF) |
| Electrical connector | M6, Max ≈125 Ampere / each |
Accessories / Spare Parts
Assembly documentation (.pdf)
FAQ - How does a Fuel Surge Tank work?