NUKE In-tank fuel pump mounting kit, quick connect and E85 proof
Nuke Performance SAE in-tank fuel pump mounting kits, safe for all type of fuels including ethanol and ideal for motorsports with quick connect fittings for easy maintenance and long live durability.
These in-tank fuel hose kits are of motorsports standards and are ideal for quick, safe and sturdy mounting of your high-pressure in-tank fuel pumps from Aeromotive, AEM, Deatschwerks, Ti Automotive (Walbro) and more.
Lightweight and extremely durable
100% E85 Approved
Easy maintenance with quick-connect fittings
Quick and easy installation
A high-pressure system with minimal flow loss
For single or dual internal fuel pumps
Available for single or dual in-tank fuel pump setups and for fuel pumps with 7.5 - 10mm outlet diameter. Find your fuel pump in the list below and choose the correct size when placing order.

Fuel pump Mounting Kit Ø 7 - 8.2mm :
• All fuel pumps with a maximum outlet Ø of 8.1mm
Fuel pump Mounting Kit Ø 8.4 - 10mm :
• AEM 320L
• Aeromotive Stealth 340
• Aeromotive Stealth 450
• Bosch BR540
• Deatschwerks 200
• Deatschwerks 300
• Deatschwerks 400
• Ti Automotive (Walbro) GST400
• Ti Automotive (Walbro) GST450
• Ti Automotive (Walbro) GST520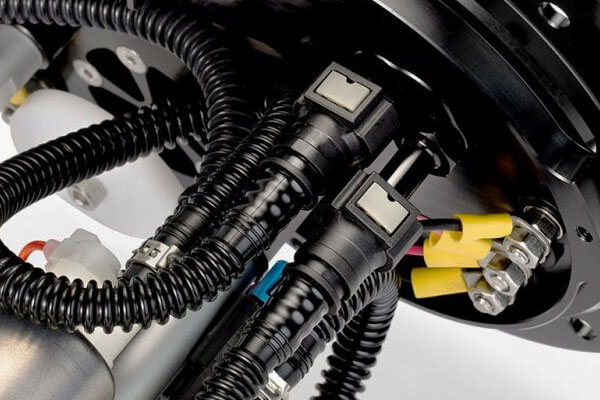 Convoluted nylon fuel hose for high flow and long durability
With the in-tank convoluted black nylon fuel hose, you will never have to worry again about how the fuel hoses will handle being soaked in fuel during long and demanding seasons or even if left in fuel when not being used for a long time. It fits within tight installations such in the Nuke Performance CFC Units and the Nuke Performance Fuel Surge Tanks.
SAE quick connect fittings for all type of fuels and easy maintenance
The in-tank fuel pump kits utilize high flow SAE quick connect fittings with Viton O-rings. SAE J2044 standard fittings for high flow and maximal functionality and durability. Safe for all fuels, including alcoholic fuels such as ethanol. This type of fittings makes your maintenance quick and safe with minimal tooling and effort.
Delivered with everything you need for an easy installation
The Nuke Performance in-tank fuel pump mounting kit comes with all the fittings, hoses and accessories you need for an easy and simple installation. For more information, download the product manual and learn more about each setup. This is the easiest way to install fuel pumps within the Nuke Performance CFC Unit and Fuel Surge Tanks and is not developed to be used in other applications except the Nuke Performance fuel performance products.
Download User Manual (.pdf)
Single fuel pump kit includes:
1 x 1/4 BSPP to SAE 9.49 Male fitting
1 x 1/4 BSPP Plug
1 x Convoluted 350mm fuel hose, preassembled with SAE fitting
1 x Single ear hose clamp
Dual fuel pump kit includes:
1 x 1/4 BSPP to SAE 9.49 Male fitting
1 x 1/4 BSPP Plug
1 x SAE 9.49 3-Way to 7.89 / 9.49 Male fitting
2 x Convoluted 350mm fuel hose, preassembled with SAE fitting
2 x Single ear hose clamp