Complete set of 3pc Nuke Performance 8 BAR / 120 PSI Air Jacks 90 Competition: Fast, lightweight, reliable and easy to use air jack kits.
A product born out of the request from motorsports for an easy to use, lightweight and reliable air jack setup that can be activated by an air supply pressure of as low as 8 BAR / 120 PSI. Lifts your vehicle to new heights by the use of a common workshop compressor.
Lightweight motorsports air jacks
8 BAR / 120 PSI work pressure
Works with common workshop air compressors
Complete set with jacks, safety props and hose kit
3pc Set lifts 1206 kg / 2658 lb at as low as 8 BAR / 120 PSI
Body and piston of high strength aluminum
Total lift length of 251mm / 9.88"
The Nuke Performance 8 BAR (120 PSI) Air Jack 90 Competition is fast, lightweight, reliable and extremely easy to use and can be activated by an air supply pressure of as low as 8 BAR (120 PSI). Prepare yourself for anything that may go wrong during the track day and with these air jacks you are ready for fast and effective repairs so you can quickly hit the race track again.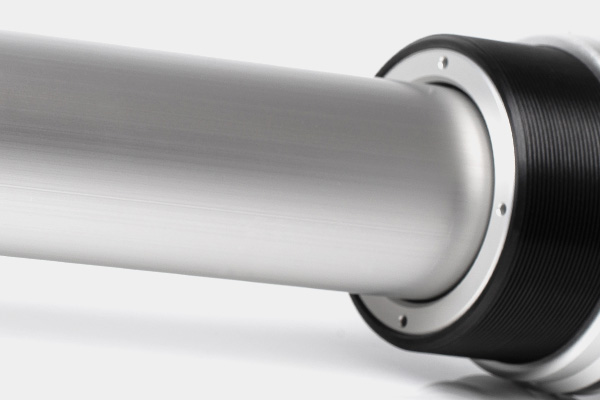 Made of high strength aluminum for low weight and extra durability
The body is made out of high strength, machined aluminum extrusion for the thinnest possible wall thickness to achieve the lowest possible weight without sacrificing functionality. It houses a high strength aluminum piston rod with an anodized finish for long lasting durability. The internal bearings are constructed of high strength, ultradurable, low friction polyoxymethylene - these air jacks are made tough to cope with the high demands from worldwide motorsports.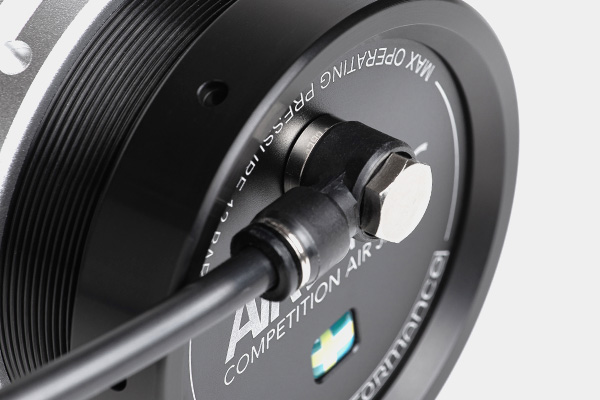 Works with an 8 BAR (120 PSI) common workshop air compressor
The Nuke Performance Air Jack 90C has an optimal operating pressure between 6-12 BAR (87 - 174 PSI), this means that it works with a regular workshop 8 BAR (120 PSI) air compressor so you do not need to bring a huge and expensive nitrogen tank. As most workshop air compressors are available in between 8 - 12 BAR (116 - 174 PSI) this is what these air jacks are specified to work with. At as low as 8 BAR (116 PSI), these air jacks will lift 402 KG (886 LB) each, and in a 3-jack system, it results in a full 1206 KG (2658 LB). This omits the need for additional equipment such as a compressed air bottle, lance, or high-pressure system.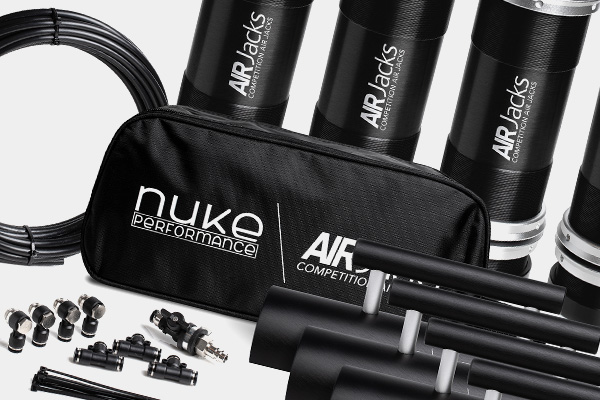 Complete set of 3 jacks for all types of motorsports use
To make it as easy as possible for motorsports such as GT racing, sports cars, time attack, etc where the vehicles are often very light and can use only 3 air jacks, we have put together a complete set of 3 Air Jacks with suitable accessories. The Air Jack kit contains hoses, pneufit fittings, safety props, and air jacks to cover your every need. This kit includes 3pc air jacks, but the kit with 4pc is the most common setup and is more often used, check the specifications to see which set that fits your needs. One Air Jack is suggested to be placed next to each wheel at the end of the vehicle with the highest weight and one in between the other wheels. This kit is particularly suitable for vehicles that have staggered weight distribution, like vehicles with the engine located behind the rear axle. Nuke Performance also offers complete sets of 2 and 4pc air jacks for other configurations.
Air Jack 2pc Complete Set Part # : 590-01-205
Air Jack 4pc Complete Set Part # : 590-01-204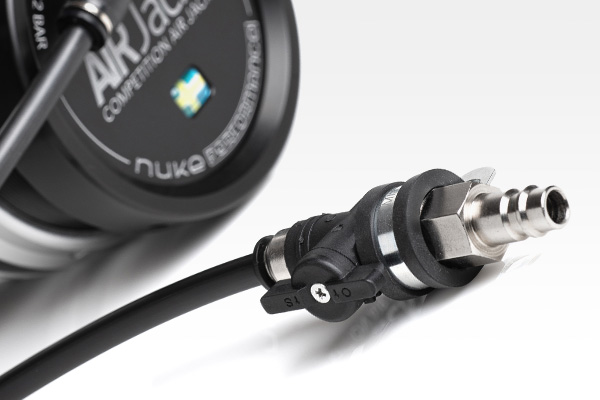 The set comes with jacks, safety props, 10m (32.8ft) hose and fittings
The Nuke Performance 90C Air Jack kits are designed to be used together with 8 BAR (120 PSI) workshop air compressors and come complete with an easy-to-use quick valve with a common EURO / pneufit fitting that fits most common air compressors. The included bracket lets you mount it in an easy to reach place out of the risk of getting it contaminated by weather or dirt from the track. In the hose kit you get 10m (32.8ft) 8mm quick connect pneufit hose, 2x quick connect T-fittings, 3x quick connect 1/4" BSPP barb fittings for the Air Jack inlets and a petcock ball valve. This kit is ideal for most setups and is easy to install, durable and affordable.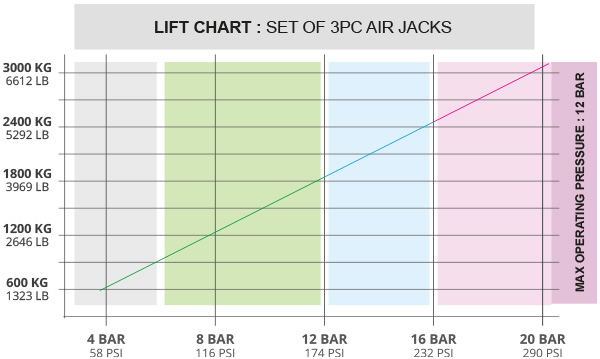 How much do the Nuke Performance Air Jacks lift in a 3pc setup?
The Nuke Performance Air Jacks 90 Competition is made to use with an 8 BAR / 120 PSI air compressor, and thanks to its larger diameter and clever design it can lift 402kg (886 lb) at 8 BAR (116 PSI) and 603kg (1329 lb) at 12 BAR (174 PSI) each. Combined into a setup of 3 air jacks, it is suitable for very light vehicles.
| | |
| --- | --- |
| Set of 3pc at 8 BAR (116 PSI) | 1206KG (2658 LB) in total |
| Set of 3pc at 12 BAR (174 PSI) | 1809KG (3988 LB) in total |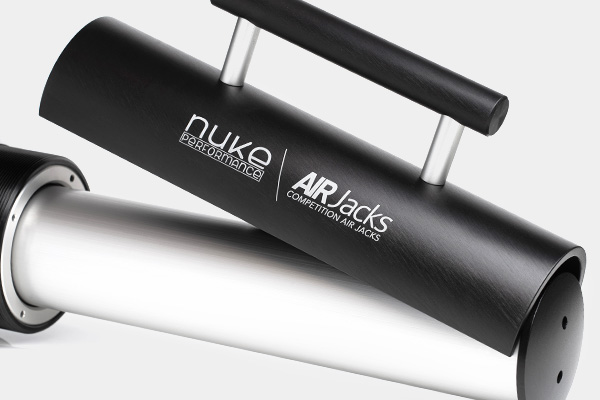 Air Jack 90C Safety Props reduce the possibility of accidents
The Nuke Performance 90 Competition Air Jack sets comes with safety props included. When working on or beneath your vehicle, there is always a possibility of accidents. When your vehicle is lifted with the help of air jacks you must always use these air jack locks or traditional jacks to prevent an accident if the pressure drops due to leakage, malfunction or handling error. The Nuke Performance 90C Safety Props simply clip securely into place when the air jack is fully extended, are equipped with an easy to use handle and come in a practical carry bag.
Safety Prop Part # : 590-01-202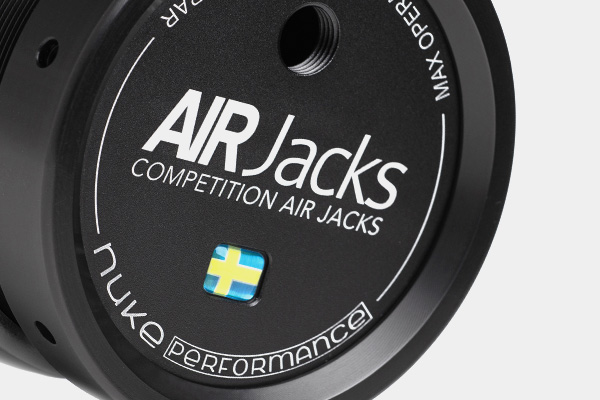 Developed in Sweden, guaranteeing the highest possible quality
The 90 Competition Air Jacks and Safety Props are developed, designed and manufactured by Nuke Performance for the highest possible quality and with the same hallmark as all the other parts in the lightweight motorsports range. There is no substitute for the quality of Nuke Performance!
---
Air Jack Specifications
For more information about specifications, view the product manual.
| | |
| --- | --- |
| Lift capacity 8 BAR (116 PSI) | 402 KG (886 LB) / each |
| Lift capacity 12 BAR (174 PSI) | 603 KG (1329 LB) / each |
| Outer diameter | 89.5mm (3.52") |
| Length retracted | 349mm (13.74") |
| Total lift height | 251mm (9.88") |
| Max operating pressure | 12 BAR (174 PSI) |
| Min / Max Ø mounting Hole | 90mm (3.54") / 95mm (3.74") |
| Air Jack thread connection | 1/4 BSPP (G) |
Download User Manual (.pdf)
Accessories / Spare Parts

Air Jack 90 C Complete Set 3pc includes:
3 x Air Jack 90 C Air Jacks
3 x Air Jack 90 C Safety Prop
1 x Safety Prop Carry bag
3 x Quick Connect 8mm Pneufit T-fittings
3 x 1/4" Barb-fitting to Quick Connect 8mm
1 x Petcock ball valve with EURO pneufit fitting
10m (32.8ft) 8mm Quick Connect pneufit hose
10 x Cable ties
Technical information :
• Air Jack body is high strength, machined aluminum extrusion for thinnest possible wall thickness.
• CNC manufactured high strength aluminum piston rod with anodized finish for long lasting durability.
• High strength, ultradurable, low friction polyoxymethylene bearings.
• Incorporates an internal high strength tension spring for maximum efficiency.
• Lightweight, easy to replace, hard-anodized aluminum foot.
• Lightweight design for motorsports use.
• 4pc aluminum mounting nuts included with every jack.
• 1/4 BSPP (G) thread for pneufit fitting.
• Anodized finish for long lasting function and corrosion-free appearance.
• Designed, developed and manufactured in Sweden.
• Laser engraved and proudly branded with the Swedish flag.

Lift capacity : / each
8 BAR (116 PSI) : 402 KG (886 LB)
12 BAR (174 PSI) : 603 KG (1329 LB)
Max operating pressure : 12 BAR (174 PSI)

Air Jack Measurements :
Height retracted : 349 mm (13.74")
Diameter : 89.5 mm (3.52")
Mounting nut diameter : 104 mm (4.09")
Min Ø mounting hole : 90 mm (3.54")
Max Ø mounting hole : 95 mm (3.74")
Total lift height : 251 mm (9.88")
Weight : 2325 g (4.927 LB)

Safety Prop Measurements :
Length : 258 mm (10.15")
Grip length : 150 mm (5.90")
Diameter : 69 mm (2.71")
Depth : 95 mm (3.74")
Weight : 530 g (1.16 LB)