Nuke Performance Air Jack 90 Competition Elephant Foot, second stage lift capacity for easy maintenance during track days.
The Nuke Performance elephant feet give you a total lift capacity of 480mm (18.9"), for easy access and safe maintenance of your vehicle. Rigid design for long durability and safe usage on all types of motorsport vehicles.
Suits Air Jack 90 Competition low-pressure air jacks
Second stage lift option for track days and workshops
Total lift height of 480mm (18.9")
Easier access to the underside of the vehicle
Self-locking design when pressure is released
These elephant feet are designed to work with Nuke Performance Air Jack 90 C low-pressure air jacks. Give you the ability to lift your air jacks in a second stage to ensure a higher lift. With the elephant feet, you can release the pressure line and still be able to work under the car in safety. Used by racing teams in various series worldwide.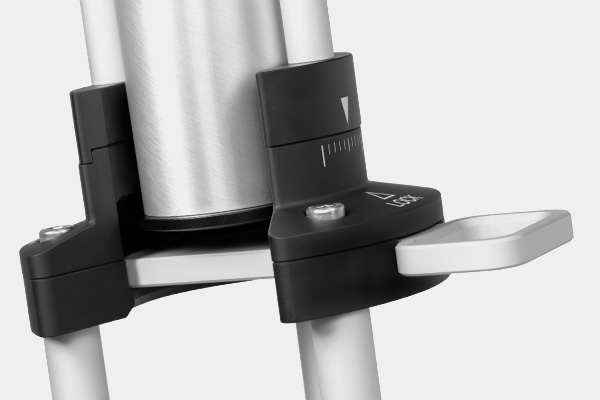 Self-locks when pressure is released for safe and easy access to the underside of your vehicle
When the elephant foot is attached in its second stage and the pressure is released, the elephant foot is locked together into one unit. This makes it possible to work with your vehicle even without pressurized lines and also gives you the ability to let the elephant feet hang beneath the vehicle when using wheel alignment tables etc. The air jacks are self-centered within the elephant safety props.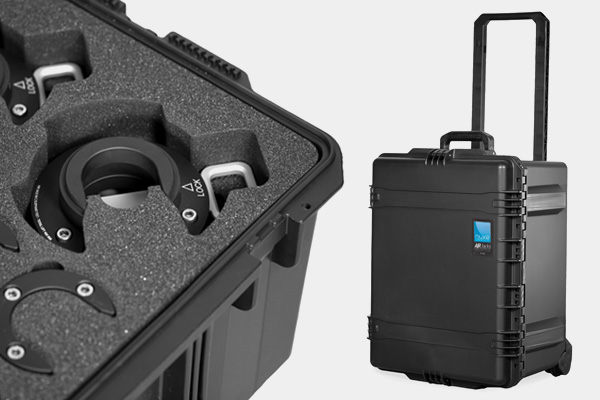 Peli flight case for easy transport and storage
For easy transport and storage, we provide a genuine Peli flight case / hard case. The case has foam inserts which give you the perfect fitment of a set of 4 complete elephant feet. The case is also equipped with a retractable handle and two wheels which makes it really easy to handle within the pitlane or workshop. A must-have accessory for your elephant foot setup. The hard case only suits Nuke Performance Air Jack 90C air jacks.
Elephant Feet Peli Hard Case Part # : 590-02-101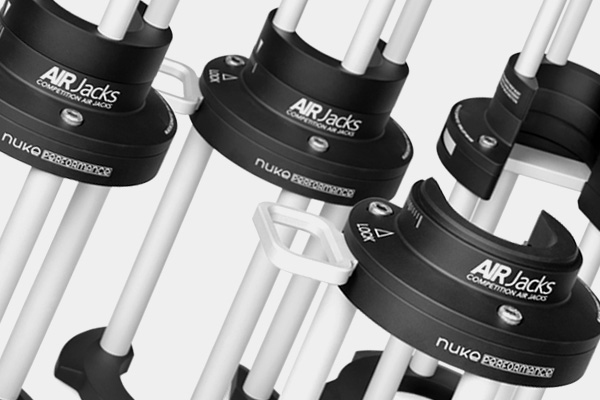 Sold as separate units, used in 3 or 4 Air Jack setups
The Elephant Foot is delivered as separate units and is able to be used when using a 3pcs or 4pcs Air Jack setup. Not suitable for 2pcs Air Jack installations. Select the needed amount of Elephant Feet when placing an order.
Nuke Performance Air Jack 90 Competition air jacks, the low-pressure air jack solution for your motorsports vehicle
The low-pressure air jacks from Nuke Performance let you get the benefits from in-vehicle air jacks without the need for external nitrous tubes and expensive accessories. The Nuke Performance 90 Competition air jacks work with common workshop air compressors and lift 402 kg (886 lb) each at as low as 8 BAR / 120 PSI. For more information about the Nuke Performance Air Jacks, view the assortment of available setups and kits.
Air Jack 90 Competition, 8 BAR / 120 PSI Part # : 590-01-201
Air jack 90 C Complete Set 3pc, 8 Bar / 120 PSI Part # : 590-01-203
Air jack 90 C Complete Set 4pc, 8 Bar / 120 PSI Part # : 590-01-204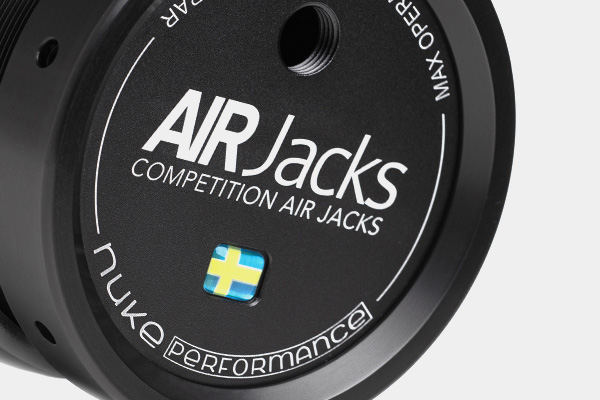 Developed in Sweden, guaranteeing the highest possible quality
The Air Jack 90 Competition Elephant Foot and Air Jack 90 Competition are developed, designed, and manufactured by Nuke Performance for the highest possible quality and with the same hallmark as all the other parts in the lightweight motorsports range. There is no substitute for the quality of Nuke Performance!
---
Elephant Foot Specifications
For more information about specifications, view the product manual.
| | |
| --- | --- |
| Lift height added | +229 mm (+9.06") |
| Total lift height | 480 mm (18.89") |
| Total height | 494 mm (19.45") |
| Width | 207 mm (8.15") |
| Weight | 2787 g (6.14 lb) |
| Compatibility | Air Jack 90 Competition 590-01-201 |
| For motorsports use | YES, for motorsports use only |
| Quantity | 1 pcs * |
* Only for use with 3pcs and 4pcs air jack kits, you need the same amount of elephant feet as air jacks.
Download User Manual (.pdf)


Air Jack 90 Competition Elephant Foot includes:
1 x Elephant foot bottom part
1 x Elephant foot safety prop
1 x Product manual
The elephant foot is sold as single units, for a 4pc kit you will need 4 elephant feet. The feet are delivered without a hard case, this hard case is sold as an accessory. If purchased together it will be delivered with assembled elephant feet within the case.